Collecting environmental records is all very well, but what happens to them? There are many recording websites and apps out there, but for data to be of value to you and other parties they need to be reliable (verified), retrievable, and made available for analysis or conservation use.
The most important reason for collecting and analysing these records is to:
Understand what environmental assets we have;
Guide and inform the work that we will do;
Monitor the effects of our actions.
Key considerations
When choosing an online recording system to submit your data, the key questions are…
How do I get data out? Can I map, review and download records data for my group?
Do I have some control over what 'resolution' my records go in at? E.g. 1m, 1km?
Species and habitat data storage in the UK is a complex landscape. Whatever system you choose to enter data into, it will almost certainly end up in a database that informs conservation, research and policy. But for farmer clusters, we'd advise that it's best to keep tabs on what you've entered and be able to review your work in progress.
It is also important retain and build up records data for future reference to ensure that knowledge is not lost when people leave the team.
National recording schemes
If you choose to join a national recording scheme – for example BeeWalk or Big Farmland Bird Count, it's easy to enter data, and the information is used for conservation purposes and made into reports. It's a good idea to keep a copy of this data for your own purposes rather than just watch your data fly off into the ether – for example if you want to do your own mapping and analysis.
Sometimes, you may not be able to meet the requirements of these national recording schemes due to limited resources, so in this case you can adapt the method to suit you, and find another avenue to enter data.
Living Record
With the key considerations in mind, many clusters who have started monitoring species have chosen to use a website called Living Record. It is the only online resource that provides all the tools that you need to map, review and download your records, and it performs some useful visual analyses too. Users benefit from a site-based recording system that is already used by National Trust estates, local councils and wildlife trusts. You can choose what resolution your record is entered at, and once verified by local expert recorders, it is typically passed on to the Local Environmental Records Centre and to national recording schemes to be used for scientific and conservation purposes. The Record Centres have policies that balance the privacy of the recorders with the need to share records data more widely.  This may include publishing records on the NBN, typically at 1km resolution.
To get started, your farm boundaries and/or cluster boundary are added to the Living Record database.  You can set up your own team too, so that you can work co-operatively on recording projects.
New records can be entered manually onto your map, or in bulk by Excel import. You can set up regular survey locations and transects, or just enter data ad hoc.
To add other useful records to your cluster map, you can use the Excel import and flag records as "historic/already sent in" so that they don't enter the verification cycle and cause duplication. An example of this might be if you send the Bumblebee Conservation Trust your BeeWalk data via their online system, but you want to upload them to your cluster map too.
You can map records for individual farms or for the whole cluster, depending on which boundaries are set up.
Distribution maps show the diversity of species found in each 100m or 1km grid square for each subject (e.g. birds) and exact locations and abundance for any single species.
Review & Download provides full access to all species records falling within the cluster boundaries. See screen shot below.
Living Record is free to join and use, but there are costs involved in the set-up of a cluster map, and ongoing support. To enquire about setting up your cluster map on Living Record, or find out more, you can contact info@livingrecord.net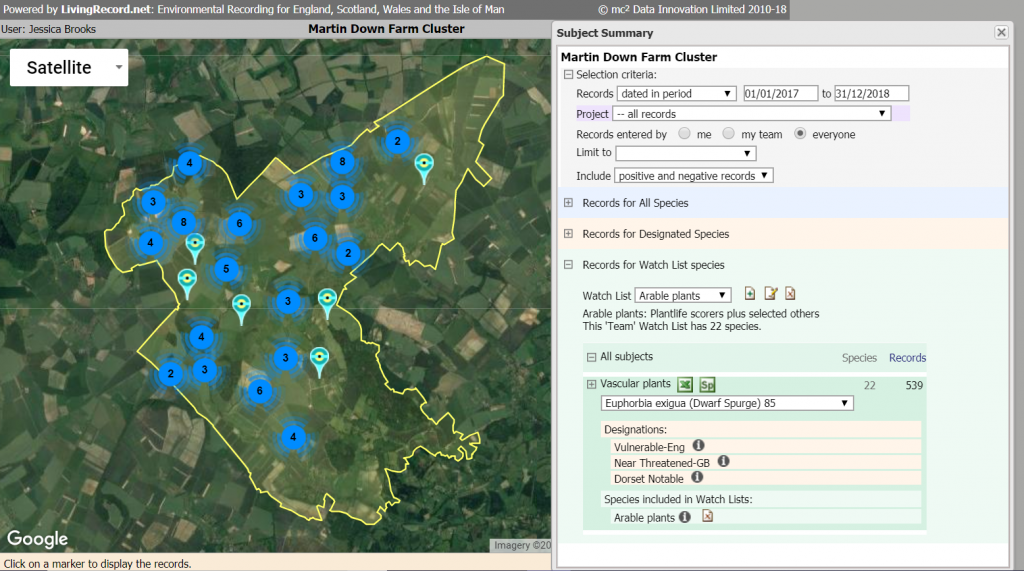 Cluster data protocol
It's not a bad idea to draft a 'data protocol' for your group. This can set out why you are collecting data, how it will be used, and what measures are in place to protect landowners rights to confidentiality. For example, within it you could state that each record submission, and the resolution of it, should be approved by the landowner. You could also state that before data is interpreted or shared with anyone e.g. in an article, or report, consent must be given by all group members. It's important to ensure volunteers and other cluster aides adhere to your data protocols and that you agree with them who will enter the data. Living Record allows multiple logins for cluster projects so you can give trusted cluster aides access to data entry and review tools.
What's going on near me?
You can use the forum or group contact details on this website to approach other groups in your area and talk about what you're doing and why. It will be easier to support one another and share results if clusters are using a similar set of methodologies and data entry methods.
Data entry Q & A
If I enter my data only on Living Record, will the relevant national organisation get to see my data?
Many organisations and charities request and view data from various sources including Local Environmental Record Centres and NBN, so it's likely they will.
If you decide to adapt an organisation's national recording scheme methodology to suit your circumstances, and then enter that data via Living Record, there is no harm sending the organisation your data as well. Accompany it with a clear note that this data has been collected using an adapted version of their methodology, and the data has been submitted elsewhere.
Can I enter my survey results to the national recording scheme AND to my Living Record project?
Yes – just make sure to avoid duplication. Duplication is not the end of the world – it happens naturally – e.g. if multiple bird watchers go to a prime location on the same day. However on a large scale it can double-up the verification effort and may influence analysis. If the organisation coordinating your survey shares data with or obtains data from Local Environmental Record Centres, and it's likely that they do, be sure to use the Excel Import to load data into Living Record as "historic/already sent in" so it does not go through the verification process and get treated like a new record.
I have submitted data to a national recording scheme but I want to be able to view and interrogate my data myself. How can I do this?
Follow the steps above – use the Excel Import to load your data into Living Record as historic data so it doesn't cause duplications along the line in databases and records centres. Alternatively if you have the skills and software, you can set up a Geographic Information System (GIS) to store and review your cluster records. But the advantage of using Living Record is the ease of the website-based approach, the support available, the tried-and-tested credentials, and the fact that many clusters can store data on the same master map.