The Environment Bank and Farm Clusters – An opportunity to invest in the rural economy and fund and create biodiversity
The need for biodiversity offsetting sites (which we at the Environment Bank call Habitat Banks) is due to sharply increase with the introduction of mandatory biodiversity net gain under England's planning law, generating a new avenue of investment into the rural economy and into your land.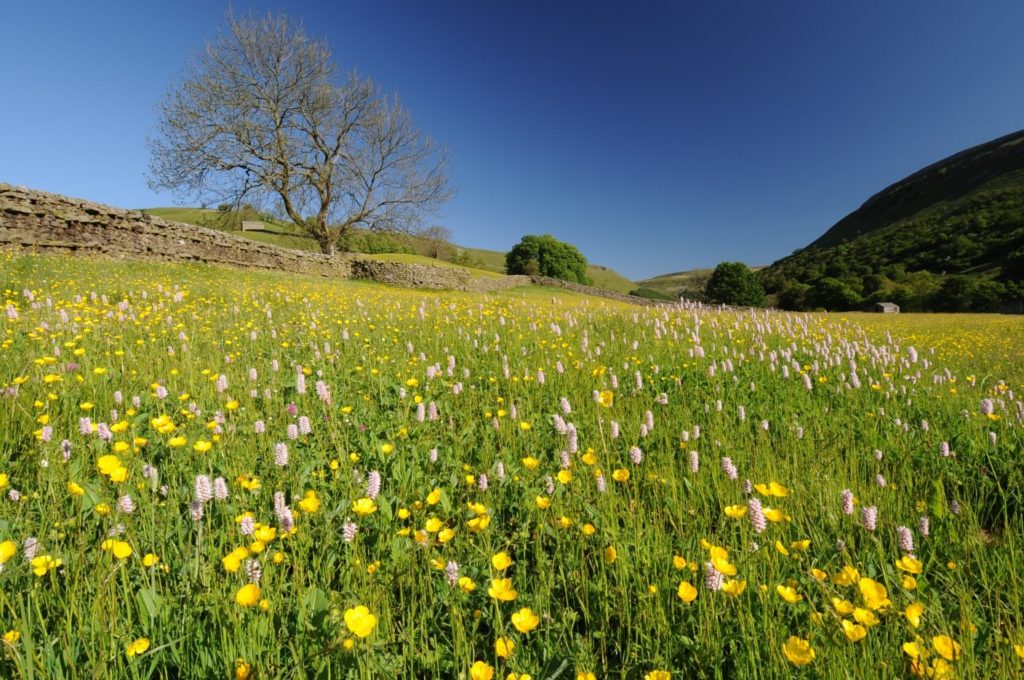 What is Biodiversity Net Gain?
Biodiversity Net Gain (BNG) is a requirement on the part of developers by Planning Authorities to :
quantify development impacts on biodiversity,
compensate for all losses, and
achieve a mandatory 10% net gain in biodiversity as a result of the development.
The development impacts are measured in biodiversity units. This number is increased by a minimum of 10% to make the development compliant with the new policy. Some of the total requirement will be delivered within the development site boundary but most of it will need to be delivered off-site. Developers do this by purchasing conservation (credits from the Environment Bank from sites we have identified which generate credits according to habitat creation and/or specific management interventions.
So, although developers can generate their own credits on the development site itself (by retaining or creating wildlife habitat), it is often impossible for them to deliver all the required biodiversity credits within the boundary and therefore they have a residual requirement to purchase credits off-site.
Environment Bank is the lead provider of credits from bespoke offset sites having been promoting the concept for the past 12 years. We create offset schemes under a contract we establish with landowners and sell the generated conservation credits to developers who require them. This ensures that effective nature conservation is delivered at scale and provides a considerable income stream into private land, supporting the rural economy and rural communities.  Environment Bank also works with conservation bodies, but it is firmly our view that the nature recovery that Government and society is keen to see cannot be delivered by the environmental NGO sector alone – the role of private sector investment into private land will be critical.
It is therefore important that we can easily and quickly identify land to service the inevitable increase in demand for biodiversity credits that the mandatory regime will create. We are therefore expanding our portfolio i.e. registry of suitable sites in order to have schemes outlined and ready to go in high demand local authority districts. Your land could be a part of this portfolio.
How can Farm Clusters Benefit?
Environment Bank have instigated BNG offset schemes across the country, providing funding for landowners to create or enhance habitat and to manage the land under our 30-year land management contracts underpinned by a Biodiversity Management Plan (BMP) that we produce for the landowner. The BMP :
is compatible with the existing site management,
is landowner led with support from us,
is flexible, with realistic targets,
contributes to the functioning of the farm as a business.
Our approach enables us to secure real gains for biodiversity in a way that harmonises with the farm business aims, providing diversification and generating a real and guaranteed contribution towards business income. Additional asset benefits in terms of natural capital such as carbon, water and a range of ecosystem services can also be delivered and funded.
If you are one of our landowners, we work as your conservation advisor and will support you throughout the term of the contract. Unlike many other conservation schemes, each management plan is designed and costed bespoke to each site, led by the people who know the land best (you), and supported by the guidance and experience of the Environment Bank team. This allows you to set the price and makes sure the scheme is financially sound.
You will be paid annually from an agreed payment plan that takes into account management activities, infrastructure maintenance and some income foregone and RPI. This long-term finance increases farm business stability and resilience. Offset funding does not conflict with existing income sources including the Basic Payment Scheme (though this is being transitioned away as a result of leaving the EU) and is often compatible with other funding sources such as woodland grants and agri-environment schemes. The key is that the land has to deliver additionality.
Offset sites can be created on farmland of any type and size provided that good conservation land management can create environmental uplift and enhanced value for wildlife. WE like land parcels of 40ha or so where we can create large-scale habitat banks. However, demand for smaller sites is also expected to be high. Farmland, for example, could be converted and restored to flower-rich grassland, or poor-quality woodlands could be better managed through appropriate interventions.
BNG: A Case Study
One example of our biodiversity offset schemes, initiated in 2016, is located within the Stratford-on-Avon District in Warwickshire. Although small, the offset site encompasses a 2.44 ha field within the boundaries of an organic farm, with all hedgerows on site managed under an Organic Entry Level Stewardship (OELS), significant gains for nature have been accomplished.
The offset area was previously used for silage, cut in June and September each year, with sheep grazing undertaken through autumn and winter. The site was surveyed and identified as a species-poor grassland in moderate to poor condition for biodiversity at the start of the scheme, and as such presented an ideal opportunity for the generation of biodiversity credits through habitat enhancement.
Prior to establishing the offset, the farmer found the field to be unproductive. We collaborated with the landowner to devise a bespoke Biodiversity Management Plan (BMP), ensuring the field provided gains to biodiversity and the potential to support wildlife, whilst also remaining a functional part of the farm estate.
The overarching aim of the BMP was to improve the biodiversity value of the grassland to a lowland meadow habitat under a 30-year contract. The management agreed enabled seeding enhancement of the flora in year one and annual management of a late summer hay cut, following a minimum closed period for the field of eight weeks. Autumn grazing each year was set at 2 LU/ha, September to November, with the additional option of a cut or grazing in the spring. Rough margins were also introduced to provide wider benefits to local insects; these 6m margins are cut one in every four years on rotation.
n return for this management, a payment plan was agreed between the landowner and Environment Bank, incorporating compensation for the cost of habitat management, changes to farm income and the long-term obligation. The offset site currently receives Basic Payment Scheme and does not conflict with the existing OELS agri-environment scheme on the land. An annual payment was agreed which increases by a set RPI each year.
The biodiversity gain for the site was analysed and a final price per credit calculated to also include Environment Bank's 30-year monitoring and administrative costs. The price of the credits was offered to and accepted by the developer (largely because it is more cost-effective using off-site provision than locking up developable land) and paid upon approval of the scheme by the local planning authority (landowner details were kept confidential).
The funds are held by Environment Bank in a designated client account. Annual payments are made subject to satisfactory completion of the management tasks which ensures the sites delivery. Site visits are scheduled every 3-5 years to assess biodiversity condition and to discuss the management plan and any potential modifications needed.
If you are a landowner or part of a farm cluster and are keen to conserve and enhance the biodiversity across your site in return for tailored long-term income, please register your interest on our website at www.environmentbank.com or contact us at admin@environmentbank.com for further details. Whilst membership of our registry doesn't guarantee that we can use your site, when we are searching for land on which to establish an offset, your land will be given priority.