Formed in 2015 and consisting of 30 members covering over 9000ha, the Arun to Adur Farmers Group is delivering a number of projects to enhance the farmed environment at a landscape scale.  These include; managing for priority farmland wildlife, enhancing soil health, resource protection issues and open farm events.  Now delivering results, communication is a common theme across all of these projects.  Given the general disconnect between the public and farming, there is a specific need to inform and educate people on the role that farmers play in producing their food and managing the landscape that they enjoy.
Following an idea from farmers in the group, and working with the South Downs National Park Authority, the Arun to Adur Farmers Group embarked on a project to create a series of 'Meet the Farmer' listening posts.  The aim was to create a number of short video clips that can be accessed via mobile phones at key points along the South Downs Way within the Group area.  Each video clip introduces the farmer at that location and gives them an opportunity to explain who they are and what they do on their farm.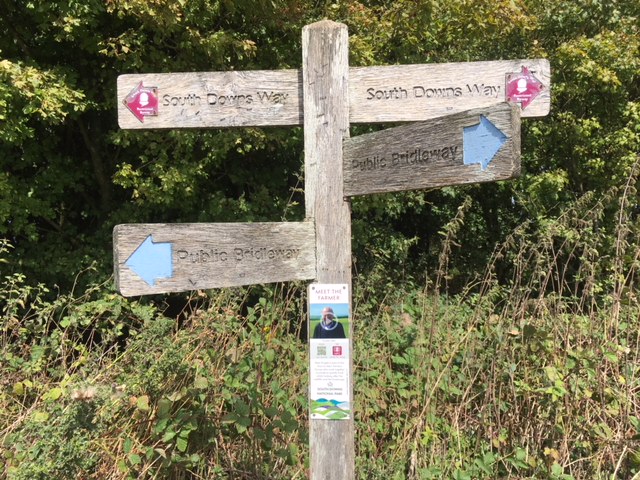 After a successful days filming in May 2018, and subsequent editing to create clips that were approximately 30 seconds to one minute long (the optimum length to engage people whilst they are out and about), six Meet the Farmer videos were created.  Plaques were designed showing pictures of the farmers and were enabled with both NFC (Near Field Communication) and QR (Quick Read) codes so that the videos could be accessed by any smartphone.  They were then affixed to stiles, and gateposts at prominent points along the South Downs Way.
Launched in August 2018, the videos were promoted on Twitter.  The number of views totalled over 2500, and it is estimated that the tweets would have been seen by over 50000 people through retweets and shares.  Out along the South Downs Way, we estimate that each video has already been watched over 50 times, with figures slowly rising as more people access them.  We have also has some very positive feedback from both locals and visitors alike, whom have appreciated the opportunity to find out more about the people, work and projects happening across an area that they enjoy.  Overall it has been an incredibly positive project, and something that the Arun to Adur Farmers Group is looking to build upon in the future.