Tim Palmer, lead farmer of the Martin Down Farmer Cluster, and Jess Brooks, GWCT advisor and facilitator, have taken out the message of farmer collaboration and the potential that it can reach to big audiences this autumn.
Invited to speak to 550 delegates at the CLA Rural Business Conference in London on 28th November, Tim said "True partnership must be the approach and land managers must remain in the driving seat for it to succeed." Landscape-scale farmer groups are very well positioned to access future opportunities, fitting well with the conference theme 'Unlocking Tomorrow's Markets'.
Jess also spoke at the NFU's Environment Conference in the East Midlands on 20th November, and has been busy visiting and supporting new groups forming across England.
Jess sums up the core messages here in her CLA conference roundup interview https://www.youtube.com/watch?v=8WkUZkXlV7I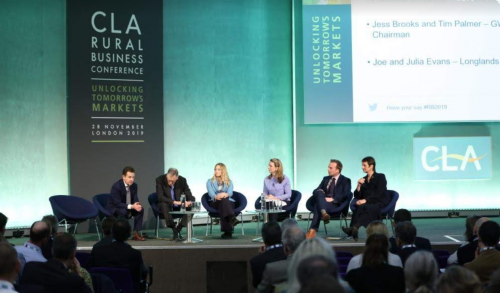 © CLA