Arable flowers are a fascinating group of species. Conserving and enhancing communities of these plants benefits so many other farm inhabitants – such as pollinators, turtle dove, grey partridges and corn buntings to name a few – and in their own right, they are a precious and declining, overlooked group of wildlife.
This spring and summer, Plantlife's Colour in the Margins Project is running a range of workshops across England focusing on how to identify arable plants and exploring management practices that benefit them.  These workshops are for farmers, agronomists, farm advisers, land managers and farm contractors. Why not book a few places for your cluster if you are nearby!
Technical workshops are run by Tim Clarke (FWAG) and focuses on how to incorporate favourable management for arable plants, strategies for dealing with problem weed species and the identification of less common species.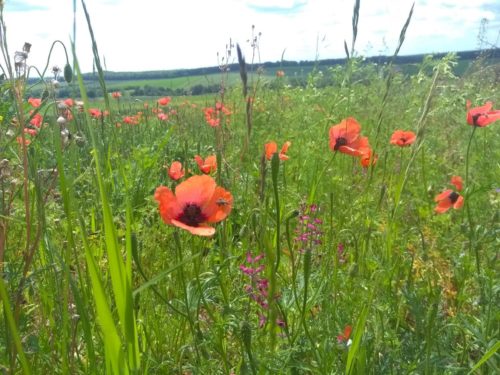 Prickly poppy © Jess Brooks
Management workshops are run by Roger Draycott and Jess Brooks (GWCT) and Phil Wilson, a national expert on arable plants, and will focus on arable plants ID and their management on a variety of different soil types.
Each event runs from 12pm-4pm with light lunch included (except Devon which is 10am-2pm)
Type                      Location                                               Date                                      Booking link
Technical             Malton, Yorkshire                            9th June 2020                    Book here
Management     Somerton, Somerset                      18th June 2020                 Book here
Management     Royston, Cambridgeshire              22nd June 2020                Book here
Management     Sparham, Norfolk                             23rd June 2020                 Book here
Technical             Dartmouth, Devon                           23rd June 2020                 Book here
Management     Canterbury, Kent                              15th July 2020                   Book here
You will be sent a confirmation after booking and final details one week before the event. Events are capped at 25 attendees and a waiting list system will be operated so please email colourinthemargins@plantlife.org.uk  if you can no longer attend. Use the links to book or email colourinthemargins@plantlife.org.uk or call 07960 152687.
Written By Cath Shellswell

Plantlife Arable Flora workshops