By Nick Marriner, Landowner Engagement Officer (Chilterns Conservation Board)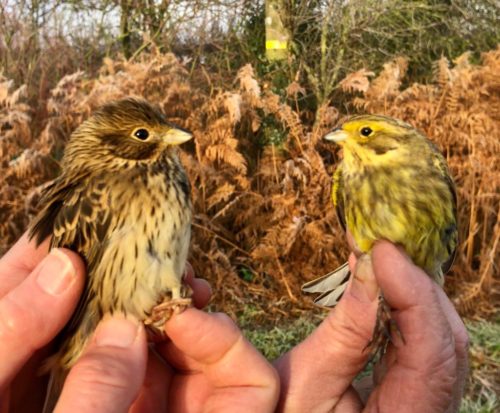 The Central Chilterns Farmer Cluster is a relatively young group made up of 18 farmers covering c. 6,500 hectares across the Buckinghamshire area of the Chilterns AONB.
Since our first meeting 18 months ago we have focused on getting a better understanding of the birds using each of the farms and looking at the wider distribution of key farmland bird species (Yellowhammer, Linnet and Corn Bunting).
Being a keen birdwatcher myself I have been able to speak with other local birders and work through both the Bucks Bird Club and the Berkshire, Buckinghamshire and Oxfordshire Wildlife Trust to recruit 14 experienced volunteer surveyors. They each covered 9 farms in 2019 and now 17 in 2020 as part of the of the GWCT Big Farmland Bird Count; the first time any of our farms had taken part in the scheme.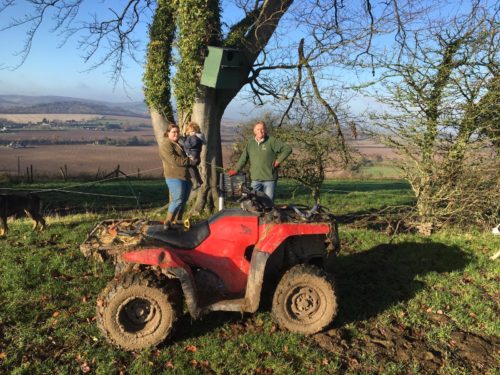 This gave a snapshot of the birds wintering on each of the farms and led to a similar survey project in spring 2019 carrying out 2 visits on each farm in the breeding season.
Running alongside this, volunteers from the Bucks Owl and Raptor Group (BORG) have been out across the cluster installing nest boxes, and both the Hughenden and Bisham Ringing Groups have completed their first winter of a long term farmland bird ringing study on 4 of the farms.
In total 27 volunteers have worked with the farmers to deliver:
26 winter farm bird surveys as part of the GWCT Big Farmland Bird Count
24 spring breeding season bird surveys
18 ringing sessions across 4 farms
42 new nest boxes for Barn Owl, Tawny Owl, Little Owl and Kestrel
Volunteer surveyors have recorded 86 species across the cluster. Species counts have topped 50 on 3 farms with some standout highlights. Yellowhammer counts of over 40 were recorded on 6 farms (one had 85!) and Corn Bunting were recorded on 4 farms, revealing the area to hold one of the strongest populations in the county.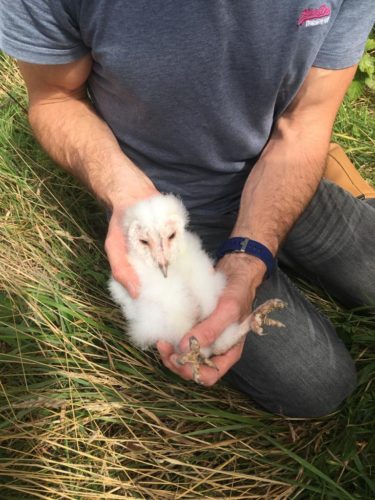 We also had some great individual records; the standout one being a passage Stone Curlew but supported by records of Short-eared Owl, Snipe, Peregrine, Raven, Yellow Wagtail, Stonechat, Linnet, Marsh Tit and Barn Owl.
The Hughenden Ringing Group caught and fitted rings to 339 birds including 93 Yellowhammer and 19 Corn Bunting, showing the importance of the area for farmland birds – so much so that BTO have recently approved a new Corn Bunting colour ringing project.
BORG have managed to carry out site surveys and, despite being hampered by the weather, have installed 42 new nest boxes on 12 farms across the cluster (including 14 Barn Owl boxes). Ordinarily they would now be monitoring the boxes and ringing chicks and we hope that some of this might still be possible later in the summer if Covid-19 restrictions are lifted.
This work has given a real sense of energy to the cluster and a healthy sense of competition between farmers to get higher bird counts or to find rarer species with some great photos, conversations and banter on our WhatsApp group!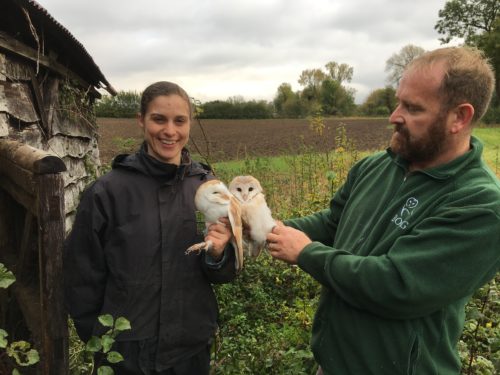 Our farmers have been really keen to take time out to welcome the volunteers and join in with the the surveys, have a go at ringing and help put up the Owl boxes. They have said how much they have enjoyed learning from the volunteer's skills and experience and our volunteers have really valued the chance to explore new areas and find some great birds.
This work has led to some exciting practical conservation work and is making a difference. All 18 farmers have completed the first winter of a supplementary feeding project. We bought 9.5 tonnes of seed that has all been eaten by farmland birds across the cluster this winter with the significant Yellowhammer and Corn Bunting counts recorded by volunteers at feeding sites.
My role has simply been to put the farmers and volunteers together and share in the exciting results that have been recorded. It has been great to celebrate success, and fuel the competitiveness between our farmers, with a few bottles of wine and boxes of chocolates; who wouldn't want to host the most species or the rarest winter visitor on their farm?
Plans are in place to build on this engagement and launch a major new bird, butterfly and plant survey next spring across 50 x 1km squares (more on this in a later post hopefully). Suffice to say that the farmers have happily given permission for volunteers to access their land for their surveys.
My time and this work is supported through the Chalk, Cherries and Chairs project led by the Chilterns Conservation Board and funded by the National Lottery Heritage Fund. See the group's profile page on the farmer cluster website here.
Bird monitoring brings farmers and nature volunteers together in the Chilterns