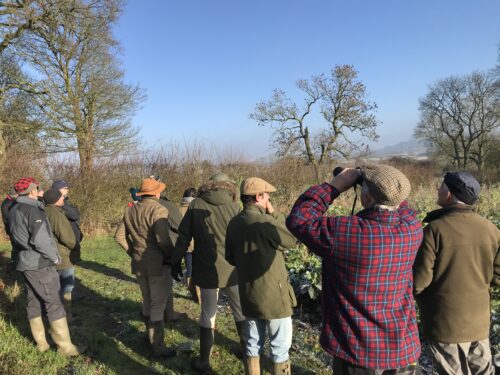 Warwickshire is fairly representative of the wider UK in that around 70% of the land area is agricultural.  In 2018 when Warwickshire Wildlife Trust teamed up with Zoe Bell a local Independent Agricultural Adviser we recognised that if we really wanted to bring wildlife back, farmers were going to play a key role in nature's recovery.
For nearly 5 decades Warwickshire Wildlife Trust had played a lead role in protecting local wildlife. But despite its best efforts, nature was still in decline.  We needed to change the approach, to engage more farmers and to enable them to inspire their peers.  So, the Arden Farm Wildlife Network was established.
Initially 3 years' worth of funding was secured from Natural England's Facilitation Fund and 16 engaged and passionate farmers and landowners formed the embryonic group.  Like most farmer clusters we were keen to ensure that the project was farmer led, so we set about understanding what the farmers wanted to learn more about, and identified a range of specialists to arm them with the knowledge needed to help wildlife on their farms.
Fast forward to 2021 and the Arden Farm Wildlife Network has grown from 16 to 45 members, who now farm over 10,000 hectares. The group is hugely diverse from large estates to family farms and small holdings.  Regular training events attract 20 people at a time and a real community has been established, sharing experiences and ideas whilst learning best practice from the specialist speakers.
One of the real successes of the project is the foundation it has provided to attract further funding.  The funding for facilitating the farmer cluster is quite narrowly focused so for additional capital work extra funding is required. The farmer cluster provides the platform for a landscape scale approach to project work and farmers are forthcoming with suggestions on the species we should target. This combines to make an excellent case for support when applying for funds.
To date we've secured additional funds to support tree sparrows, barn owls, tree planting and our latest success was for recreating wild flower meadows.  These mini projects within the farmer cluster have helped to foster better working relationships and deliver significant added value to the farmers participating, whilst also providing a lifeline to some of our most threatened species.
And so what for the future? Well in April we were successful in securing a 1 year extension to the Arden Farm Wildlife Network.  This will enable us to build on the success of the last 3 years and deliver further impact until at least March 2022.  The farmer cluster concept has been well received within the county and we've recognised the impact the approach can have. Inspired by the success of the project two new farmer clusters have just been launched with support from the Warwickshire Rural Hub.  So the future looks bright for farmer clusters in our patch. We're hopeful that future Government policy will recognise the hard yards which have been put in to establish this way of working, and enable it to flourish with future funding supporting the hugely cost effective way of inspiring and engaging farmers to play a key role in nature's recovery.
The Wildlife Trusts are leading the campaign to ensure that 30% of the UK land and sea is supporting nature's recovery by 2030 (30by30). We see farmers and land owners playing a key role in this. Land which supports nature's recovery can still perform key functions in terms of food production or amenity if managed in the right way and farmer clusters provide an excellent platform to extend our reach, enabling us to engage more farmers. Working together, we can bring our wildlife back.
Ian Jelley, Warwickshire Wildlife Trust
Arden Farm Wildlife Network